Discover How Kids Taekwondo Classes Can Change Your Child's Life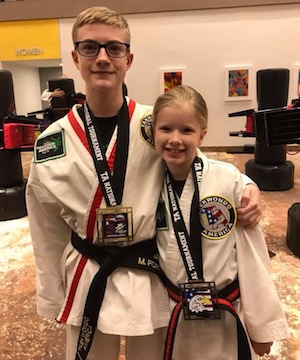 At McCoy's Taekwondo America, we want to set your child up for lasting success. That means we provide high-quality taekwondo training that will cultivate confidence, focus, discipline, and respect in your child... and we'll do it in a safe, supportive, and family-friendly atmosphere!
From breaking boards to learning awesome new punches and kicks, our Kids Taekwondo classes are everything your child needs. They'll learn important life skills, establish lifelong habits of physical fitness, and meet cool new friends and inspiring mentors. Join us in Arab and see for yourself how Kids Taekwondo classes can change your child's life!
... or just fill out the short form on your screen to learn more!
Why Choose Kids Taekwondo Classes?
Arab has all sorts of activities to choose from, so why come to McCoy's Taekwondo America? Many people think of Taekwondo as being solely about punches and kicks, but the truth is that our goal is to create positive personal growth for your child. Starting at Age 3 with our Little Dragons program, our focus is on developing core values that will guide your child to success throughout their scholastic and professional careers, here in Arab and wherever their journey takes them!
Kids Taekwondo is an incredible tool for generating real character growth. As your child strives toward their next belt, they learn smart goal-setting and a strong work ethic. As they work together to learn new skills, they learn teamwork and leadership. When they practice their technique to get it just right, they gain discipline and focus. We believe that Taekwondo is the key to creating strong, healthy youths right here in Arab!
Join us for Kids Taekwondo classes that will:
Instill unshakable self-confidence
Teach smart goal-setting & the value of hard work
Create teamwork & leadership skills
Provide positive role models to motivate & inspire your child
Plus Taekwondo Is A Fun Activity That Your Child Will Love!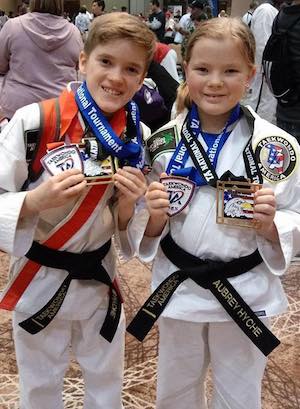 Aside from the mental and spiritual benefits associated with Taekwondo Classes, your child will also become physically fit and learn non-violent bully prevention strategies. Our Kids Taekwondo program will help your child cultivate strength, dexterity, and hand-eye coordination... and they'll love each class so much, it won't even seem like work! McCoy's Taekwondo America uses proven teaching techniques learned from decades of experience to ensure that our Taekwondo isn't just the best choice in Arab... it's the best in Alabama.
Our Kids Taekwondo Classes Will Help Your Child:
Build functional strength & agility
Gain improved hand-eye coordination
Learn non-violent bully prevention strategies
Develop lasting habits of physical health & wellness
Enroll In Arab's Premier Kids Taekwondo Classes Today!
With top-notch instructors and classes available for any age, ability, or fitness level, there's no reason not to begin your training! Come tour our facility here in Arab, talk with our staff about your goals, and see firsthand how we create a positive and family-friendly atmosphere at McCoy's Taekwondo America. Our Kids Taekwondo classes are the only choice for creating a happier, healthier, more successful life for your child!
Simply fill out the short form on your screen to get started!