Are You Ready For Arab's Solution To Fun, Dynamic Fitness? Our Taekwondo Program Has It All!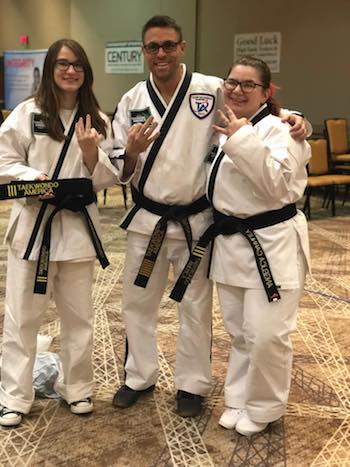 Are you tired of the same boring gym routine? Looking to try something new and exciting? Our Adult Martial Arts classes will get you started on the fundamentals of Taekwondo, allowing you to take on full-body exercise, create a new sense of confidence in yourself, and learn practical self-defense... it's all here at McCoy's Taekwondo America!
Our program is Arab's favorite destination for Adult Martial Arts training. We cater to all ages, abilities, and fitness levels, so no matter whether you're a complete beginner or you're bringing a belt with you to your first class, we'll work with you to help you achieve your goals.
Just fill out the short form on your screen to learn more!
Why Are Adult Martial Arts Classes Right For You?
The benefits of Taekwondo are endless. From constructing a stronger sense of self-confidence and discipline to finding an amazing community with a supportive, family-friendly atmosphere, McCoy's Taekwondo America will help you work toward your goals. All you have to do is enroll in your first class!
Join us in Arab for the opportunity to build total-body fitness, learn self-defense, and live your life with complete confidence. Our Adult Martial Arts classes are ideal for anyone seeking better health. You'll be stronger, more agile, and experience reduced stress and anxiety in everyday life. What's not to love?
Enroll for your first Taekwondo Class and experience:
Improved strength, stamina, & cardiovascular health
A fun, high-energy fitness routine that works
Sustainable workouts that will encourage muscle gain and weight loss
Lessons on practical self-defense for any situation
Taekwondo Training Will Help You In All Aspects Of Life
You'll feel stronger, healthier, and better. Not only will our Adult Martial Arts program offer you the chance to live a healthier lifestyle, but you'll reap the rewards at work and at home. The focus and attention taught through Taekwondo will help you be more present at home and more diligent in the workplace, leading to stronger relationships and heightened productivity. Enroll in your first Adult Martial Arts class at McCoy's Taekwondo America and get training from the very best instructors in Arab.
Our Adult Martial Arts Program helps students across Arab:
Develop stronger connections with their family & community
Feel more energetic & motivated in day-to-day life
Reduced stress, anxiety, & negativity
Live confidently, with a feeling of unity between their minds & bodies
Get Started On Arab's Ultimate Taekwondo Program Today!
Our Adult Martial Arts program is perfect for individuals of all ages, abilities, and fitness levels. We're offering you the chance to reclaim your body, revitalize your mind, and genuinely love exercising. McCoy's Taekwondo America is committed to working with you to achieve your goals -- your success is our success. By enrolling in your first class, you're taking the first step in your journey toward better health and greater happiness. It all starts right here in Arab!
Simply fill out the short form on your screen to begin your journey today!